August 10, 2014 / Markets & Industries, New products & trends
Metal ties withstand short circuit test to cable cleat standard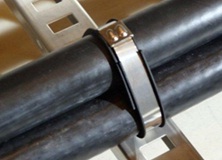 Electrical short circuits unleash a tremendously destructive force. The risk of injury and damage from flailing cables is especially high when single-core power cables are laid in trefoil formation.
Cable cleats are the most commonly used protective equipment to fix low and medium voltage cables in industrial electrical installations.
But tests on HellermannTyton's stainless steel cable ties conducted by the NEFI High Power Laboratory in Norway demonstrate that metal ties actually provide as much protection in the event of a short circuit as cleats. 
The dominance of cable cleats has much to do with the fact that there is a specific certified international standard (IEC61914:2009) for their use as protective equipment in electrical installations, but not one yet for steel cable ties.
Expertise in high-quality products for fastening and fixing electrical cables in all kinds of applications lies at the heart of HellermannTyton's business.
We decided to put the engineering and material know-how behind HellermannTyton single and double wrap Metal ball (MBT) and buckle ties (AMT) to the test. Our aim was to discover just how our metal tie fixing solutions withstand worst-case short circuits (see here for an explanation of trefoil formation in cable laying by Electrotechnik Magazine).
HellermannTyton approached the NEFI High Power Laboratory in Norway to conduct a series of independent tests.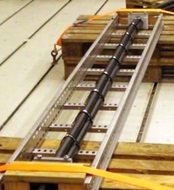 Two different cable sizes, Ø 36 mm (300 mm²) and Ø 13 mm (50 mm²), each with 3 cables à 8 m per each variant in trefoil formation.
These were restrained on a 3 m stainless steel cable ladder with MBT or AMT metal cable ties at the spacing intervals calculated using the formula.
Short circuit times between 0.2 and 0.5 seconds were tested at various current levels through the cables.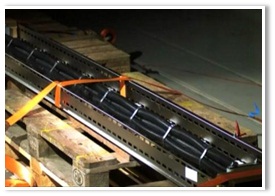 The tests at NEFI were recorded with high speed cameras to enable detailed visual analysis of the impact of the short circuit.
As the video clip shows, no damage was observed or found on any of the objects in the test.*
Stainless steel cable ties are less expensive on average than cable cleats and offer wider application flexibility for scenarios with differing cable diameters under identical application conditions.
Our MBT and AMT ties are also extremely resistant to heat and corrosion, making them ideal for indoor and outdoor electrical installations on oil and gas platforms, in ships, at renewable energy parks or around industrial plants.
Please contact us here if you need assistance selecting the right cable tie for your application.
*Disclaimer: Please note that the information provided here is no substitute for a suitability test of your individual application. Although conclusive within the parameters of this experiment to IEC61914:2009 standards, the results of the short circuit test performed on HellermannTyton metal cable ties are only a general guide. Our test results do not replace the need for precise engineering calculation of the expected forces in individual cable installations. Failure to do so or incorrect installation produces an unnecessary risk of damage and fatality that HellermannTyton cannot be liable for.
Learn more about the products tested here in the following blog article:
Metal systems solutions – for when push comes to shove
We invite you to share your experience of protection measures in the event of short circuits in low and medium voltage cable installations here.
#912