March 10, 2014 / Company, Products applications
A New Product Every Three Days
"A New Product Every Three Days", writes the German daily newspaper 'Die Welt' following a visit by one of its reporters to HellermannTyton in Tornesch, Germany – one of twelve production sites around the globe. What might at first sound like a fanciful boast is reality at HellermannTyton. Over 60,000 items make up the company's vast palette of cable management solutions, and the number is growing continuously.
Producing a new product every three days means a lot of tightly coordinated processes, so let's take a look at what's behind this figure to understand how this frequency is possible. Two important points to keep in mind are how technologies help assure quality and efficiencies, and HellermannTyton's philosophy of being close to customers.
A walk through the company site in Tornesch leaves the visitor with one very striking impression: this is a highly automated business. As 'Die Welt' points out in the article, many of HellermannTyton's products are manufactured using the same principle. Granulated plastics are heated to liquid form, injected under extreme pressure into a mould and leave the machine a moment later as a quality finished product. Often, an employee only needs to get involved in the production process in order to change a particular product mould, or to replace the container receiving the end product. Automation – or automated product platforms, to borrow a term from the automotive industry – helps to ensure that all key parameters for a product are met consistently. And this contributes to quality assurance.
Automation on this scale, however, is a feature across the entire company. At night, when most employees are already at home, automated warehousing machines are busily whirring along rows of packaged products stacked to the ceiling of the high bay warehouse shelves. These "robots" are using off-peak production phases to optimize the storage of products. When warehouse employees arrive for work the next morning they find the boxes, containers and palettes arranged in their best possible location for fast access and dispatch to customers that day. This saves time and frees up resources for tasks that are better performed by people – such as understanding and serving customers' needs.
While technological platforms have helped HellermannTyton to become an industry leader, the company strategy of being close to customers and its philosophy of knowing each customer's requirements are key reasons why it has become what the 'Die Welt' newspaper describes as "a hidden champion".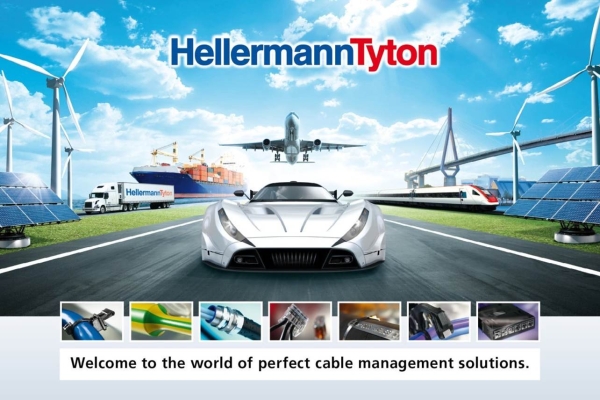 Being close to customers means that solutions don't simply find their way into applications for automotive production, or into solutions for telecommunications, aerospace, shipping, railways and energy customers. In very many cases, these solutions are developed by working closely together with engineers and in-house developers from the receiving company.  Furthermore, a partnership with large industry outlets also helps HellermannTyton to meet the demands in a very broad range of industries, explains Stephan Jungermann, Managing Director Germany and Global Executive Manager for the Electrical Market.
An important role in this close relationship is played by those responsible for developing the moulds used for serial production. As a general rule, the requirements for, say, a cable clip, cable tie or cable duct, are highly specialised or even unique. For instance, a clip with custom specifications may be required for an extremely confined space in a new vehicle model. About 30 employees are involved directly in creating the moulds for products, and many more contribute indirectly through their knowledge and contact with end customers.
Altogether, HellermannTyton employs well over 3,800 people at 36 locations across all continents, and based on this strategy of quality, competence and a close relationship with the customer, these employees form the backbone of the company's expertise.
At first glance, therefore, 60,000 products and a new product every three days might seem a tall order. However, with its longstanding tradition of quality and competence built on skilled people, it is reality at HellermannTyton.
#860
Update Jan. 2016:
- 3,800 employees in 36 location worldwide
- read the article in 'Die Welt' click here (in German)