April 10, 2014 / Company, Markets & Industries
Perfect touchdown at Aircraft Interiors EXPO 2014
HellermannTyton is a regular participant at the Aircraft Interiors EXPO (AIX) in Hamburg, Germany, which is an annual Mecca for experts involved in aircraft construction and cabin design.
Following-on from a very successful AIX 2013, HellermannTyton exhibited again at the Hamburg Messe from 8 – 10 April 2014 under the aegis of Hanse-Aerospace – an association of aviation and space industries suppliers from the Hamburg region.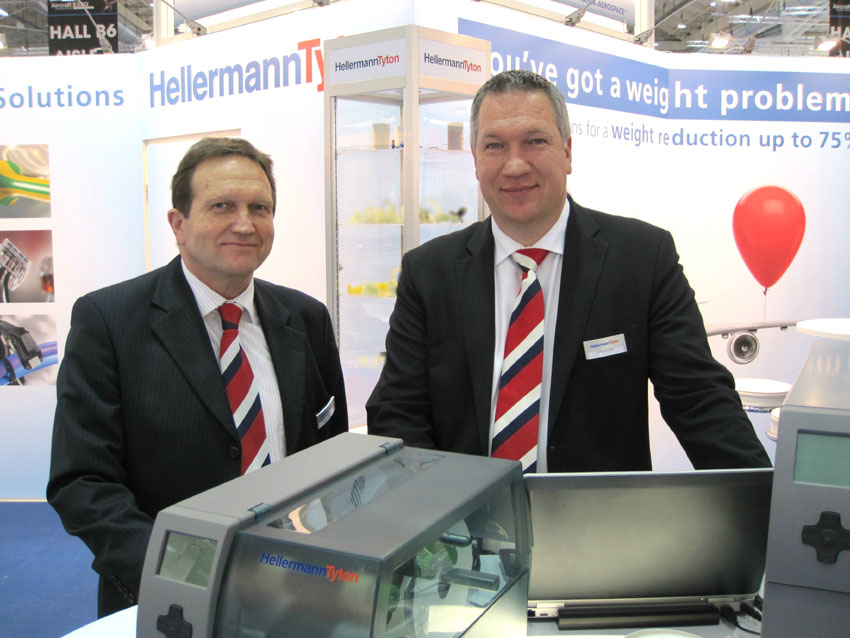 You've got a weight problem?
Aircraft Interiors presents a unique opportunity in the calendar to network with a wide cross section of aircraft engineers, cabin designers and procurement managers. One aspect above all others links these experts: making aircraft as light as possible to maintain fuel efficiency.
"As a specialist development partner for aircraft manufacturers focussed on weight reduction programmes, we offer a host of fixing and fastening solutions that make a significant contribution to optimising weight in aircraft construction," explains Burkhard Croener, HellermannTyton's Aerospace Market Manager. "Many visitors to our booth at AIX were astonished to discover the breadth of our product portfolio and the depth of our design team's expertise to engineer substitute fixings that can be as much as 75 per cent lighter."
Whether flush fitting cable ties for ducts and hoses, outside serrated cable ties for sensitive cable bundles, customised clips made from heat-stablised polyamide or mounts and ties from PEEK, HellermannTyton has over 40 years' experience serving the individual needs of the aviation industry.
From the cockpit and cabin through to the fuselage, empennage and engines, HellermannTyton is a DIN EN 9100 certified supplier with a proven track record of designing, manufacturing and supplying reliable, compact parts that are constantly tested to meet the high quality standards such as temperature resistance and extreme mechanical stress set by the aerospace industry.
#991