March 15, 2018 / Products applications
What you can do if you hit an electrical cable when drilling in a wall?
Damage to electrical wiring from drilling into walls is a surprisingly frequent phenomenon – especially when buildings are being renovated.  Not only do the lights go out, but you usually blow a fuse as well. With a bit of luck, you might only have to repair the cable sheath. But if you damaged or severed a wire, just using a terminal strip, insulation tape and some silicone sealant are not recommended – you need some professional kit!

Please note: In general, electrical power cables in the wall or cavities most likely run vertically and horizontally from switches and sockets. If you suspect that an electric cable has been hit, it is absolutely necessary to repair it. You should immediately ensure that the power is switched off before touching anything. In the worst case, if the protective earth conductor has been damaged you otherwise run the risk of a fatal electric shock.
It's time to equip your toolbox with the LVRK Cable Repair Set.
HellermannTyton's answer to the question how best to repair an electric cable that has been damaged is the LVRK Cable Repair Set for low-voltage wires. The handy pack contains everything you need to safely repair electrical wires that have been hit by a drill or severed by cutters or a blade. It's a space-saving solution, too. There's no need to pull new cables or channel out a large cavity to install a flush mount junction box. And experts have been advising against using conventional terminal boxes for a while now.
A video available on the HellermannTyton YouTube Channel demonstrates how easy the LVRK low-voltage wire repair kit is to use.
The cable repair set includes a 200 mm an adhesive-lined heat shrink tube, five crimp butt connectors with heat shrinking insulation for 1.5 mm2 – 2.5 mm2 wire cross-sections plus four heat-stabilised Q-series cable ties with their unique open head and pre-locking function for easy handling.
How to perfectly repair damaged electrical wires using the LVRK set: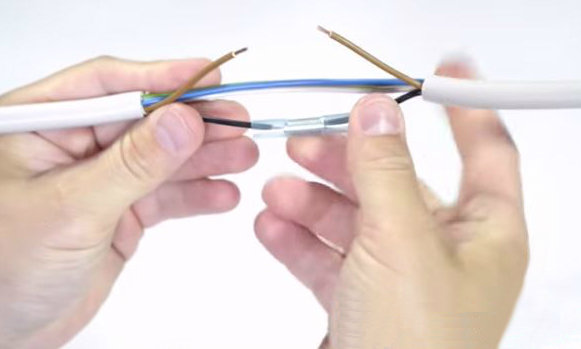 1. Observe all precautionary measures! Only after ensuring that the power is really off, remove the cable sheath from the affected area and separate the wires to expose the damaged section.
Then insert the required number of crimp butt connectors and heat them to 150 °C so that the heat shrink insulation fits snugly around the connection.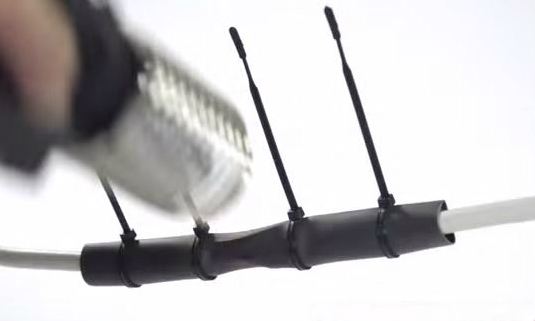 2. After that, slip the pre-slit heat shrink sleeve over the repaired section and fix it in place with the heat-stabilsed Q-cable ties supplied. Heat the sleeve from the middle outwards until the adhesive and the sleeve completely seal the spot. The adhesive also prevents moisture from entering. You can tighten and cut off the excess cable tie when finished.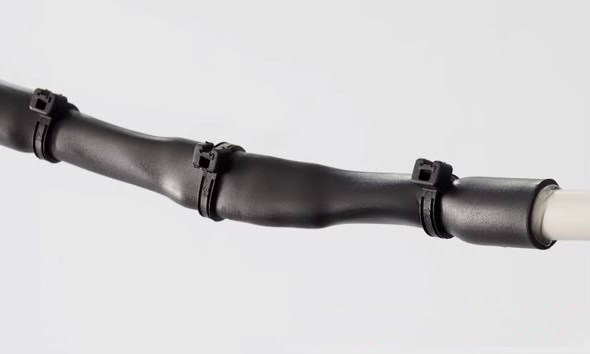 3. As soon as everything has cooled down, the power can go back on – fast, safe, durable and cost-effective. You can plaster the repaired cable in place and off you go! No flush mount junction boxes, no fuss and minimal mess.
Apart from a crimper and a hot air gun you don't need any special tools. Product information is available here as a pdf.
For non-trade customers, the LVRK Set is available here from Conrad Electronics.
The LVRK Cable Repair Set makes it possible to repair damaged cables and wires in electrical installations quickly and safely. Damage to cable sheaths or wires can be repaired safely, durably and quickly. In most cases it is not necessary to set flush mount junction boxes or pull new cables.
Will the insurance pay for repair to my tapped power cable?
As a rule, liability insurance pays the damage. However, in the case of negligent action, exceptions may occur. A record of where the wiring is installed or a device for detecting wires and pipes can help you prevent mishaps occurring. However, don't rely on it 100 %. Only drill where really necessary and exercise extreme caution.
Where can you buy the LVRK Cable Repair Set?
Just ask your local electrical distributor, such as RS Components, Edmundson Electrical, TTi and others or check for HellermannTyton and LVRK at Conrad Electronics with the following item code: 380-04004. We are there when you need us, worldwide.
Other useful products: our Ratchet P-Clamp
Are you looking for the right heat shrink tubing for your needs? The application areas for are very diverse.
Are you familiar with the Ratchet P-Clamp – our new cable clamp which allows you to separate the cable routing and fixing tasks? Find out more here "Flexible, custom-fit cable routing: The new Ratchet P-Clamp cable clamp"
Do you need re-openable cable ties for temporary fixing? Read more about our "Releasable re-usable cable ties"
#3020