February 10, 2014 / Company, Markets & Industries
Metal systems solutions – for when push comes to shove
The products and services we take for granted the most are often those we encounter every day. For instance, passengers on a high-speed train rarely give thought to the vast amount of engineering expertise that goes into making a carriage safe, reliable and comfortable. Yet each component must perform perfectly at all times  ̶  and that requires development know-how, quality assurance and  an ability to meet the highest industry standards  ̶  especially when conditions are tough.
In harsh environments, such as beneath a railway carriage, in a jet engine, inside a power plant or on an offshore drilling platform, cable management solutions are continuously challenged to the extreme. HellermannTyton has a professional metal systems solution for bundling and fixing cables and for processing, protecting and identifying them for all manner of extreme conditions: temperature, corrosion, chemical contact, abrasive friction, shock and vibration, or high levels of physical force that test tensile strength over long periods.
A case in point is HellermannTyton's non-flammable metal banding made from high-grade stainless steel with a tight locking system. The metal cable tie can withstand temperatures from -80 °C to +538 °C and is especially suited to applications in railway, shipping, mining and construction, where extreme conditions such as high vibration are a permanent feature.
Others sectors with an especially high demand for durable metal products for extreme conditions include offshore drilling,  where resistance to saltwater corrosion is a major concern, and food processing, where ties and fasteners need to be easily detectable, helping to assure that finished products are not contaminated.
Customised solutions to meet the demands of individual customers and applications
An important feature of all HellermannTyton cable management solutions is our ability to tailor products to the individual demands of our customers' applications.
Take our HelaGuard family of flexible metal conduits, for example. HelaGuard provides mechanical protection for cables installed in hazardous environments and is available in a variety of materials. The galvanised steel solution is optimal for machine building, plant construction, hydraulic and pneumatic conduits, as well as for under-floor wiring. For extremely salty conditions on an offshore drilling rig or in shipping, SS316 stainless steel conduits are the best solution because of their ability to withstand corrosion.
The HellermannTyton MBT Series of cable ties, with their robust stainless steel ball lock head, is a prime example of this kind of flexibility. The tie is used for securing extreme loads and is constructed from stainless steel with a polyester coating. While the coating offers the advantages of a smooth edge, more comfortable handling and a barrier to erosion by dissimilar materials, the tie itself also comes in double-wrap dimensions for even greater high-tensile strength.
Read here an article of the EW Magazine: Richard Rands, UK Product Manager, Fastenings & Fixings from HellermannTyton in Manchester, explains why secure cable fixings are essential for tunnel safety. Read the full article of Electrical Wholesaler Magazine: "Secure cable management in the spotlight"
Stainless Steel Printing System M-BOSS Compact – metal plate embossing printer
HellermannTyton also provides a complete range of M-BOSS industrial identification Products made from stainless steel. The markers are designed for clear and durable labelling in harsh and hazardous conditions. The solution range includes a specialised M-BOSS embossing printer that is no bigger than a desktop printer.
Design and material testing
In hazardous environments, nothing can be left to chance. Behind all HellermannTyton products for the toughest application scenarios is a well thought-out approach to design and material.
We continuously test the quality and durability of our products and materials in a six-pronged approach that encompasses tensile strength, heat aging, vibration and shock, salt spray, weathering, and insertion force testing. This approach helps to ensure that our products adhere to the highest industry standards for safety and durability under extreme conditions.
Material is only one factor to bear in mind when seeking the optimal solution for a challenging application scenario. Being able to select a product in a wide range of physical dimensions and forms plays an important role.
With our commitment to quality and our expertise gained from providing cable solutions to customers for over 75 years, HellermannTyton is a reliable partner for those extreme applications when only the best is good enough.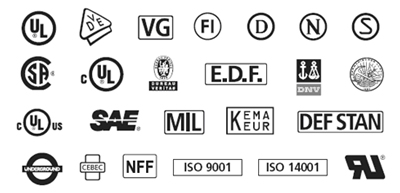 All HellermannTyton Certifications & Approvals here: http://www.hellermanntyton.co.uk/site/downloads/certifications–approvals
We would like to receive your comments about extreme conditions that defeated regular cable ties. Leave a comment.
#800