October 10, 2014 / Markets & Industries, Products applications
Why protecting hydraulic hoses pays off – for the safety of your employees and your wallet
It is hard to imagine a world without hydraulic technology. Fluid power, or hydraulics (Greek hydor, meaning water and aulos, meaning pipe) has been used extensively in mechanics since classical times. Today, heavy equipment actuated by hydraulics are used extensively throughout the construction, mining and agricultural industries. Yet the very nature of nature of heavy duty scenarios means that hydraulic hoses are subjected to a lot of strain and abrasion that can result in their failure. Burst protection sleeving can really help.
Excavators, earth movers, mobile cranes, dumper trucks, agricultural machines, refuse collectors, waste compressors – hydraulic systems are present everywhere we look. All of them rely on flexible high pressure hoses filled with hydraulic fluid to transmit their power.
The cost of neglecting hydraulic hose inspection and maintenance can be high
High pressure hose failure can be extremely costly – not just to installations and equipment, but to the life and limb of the people operating hydraulic machinery or those who happen to be in their immediate vicinity.
Hose bursts can be a sudden explosive rupture or a hot pressurised jet of mineral oil from a pinhole leak. The consequences of either failure can be equally catastrophic.
Common reasons for a high pressure hydraulic line to burst:
Incorrect installation
Material fatigue
External damage
The DGUV (umbrella association of German Accident Insurers) therefore recommends that hydraulic hoses should be examined at least every 12 months when used under normal conditions or every 6 months during intensive use or under extreme conditions.
On account of natural material fatigue – especially the rubber components – hydraulic hoses should be replaced after six years of normal use, or at least every two years under extreme conditions. But unfortunately in practice, hoses are often not exchanged regularly and accidents do happen.
Adding protective sleeving to hoses reduces risk significantly
Applying a protective sleeve to exposed hoses is a simple and cost-effective safety measure that significantly reduces the risk to people in the event of a sudden hose burst.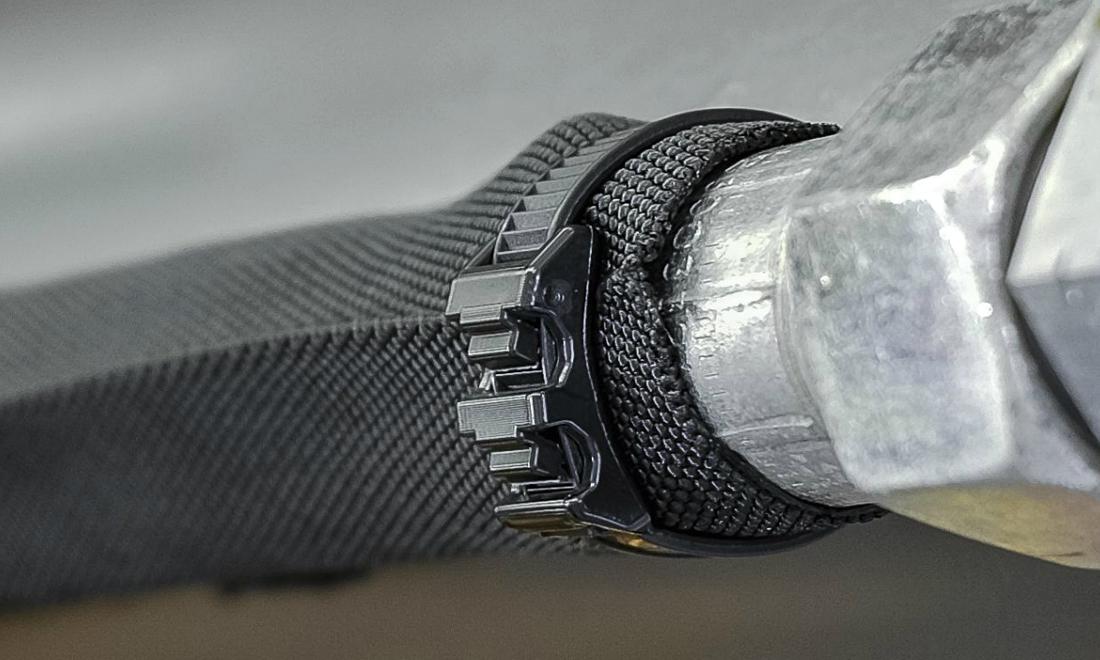 Burst protection sleeving is constructed from tightly woven polyamide fibres similar to those used in modern body armour.
The high-tensile strength of this flexible, lightweight material makes it ideal for encasing hoses and providing them with an extra layer of heat and abrasion protection.
Conversely, protection sleeving also offers highly effective protection to people and equipment from hoses that burst.
The function of the polyamide sleeve can be likened to a "breakwater" – a coastal sea defence structure designed to dissipate and absorb the force of waves to reduce the effect of beach erosion.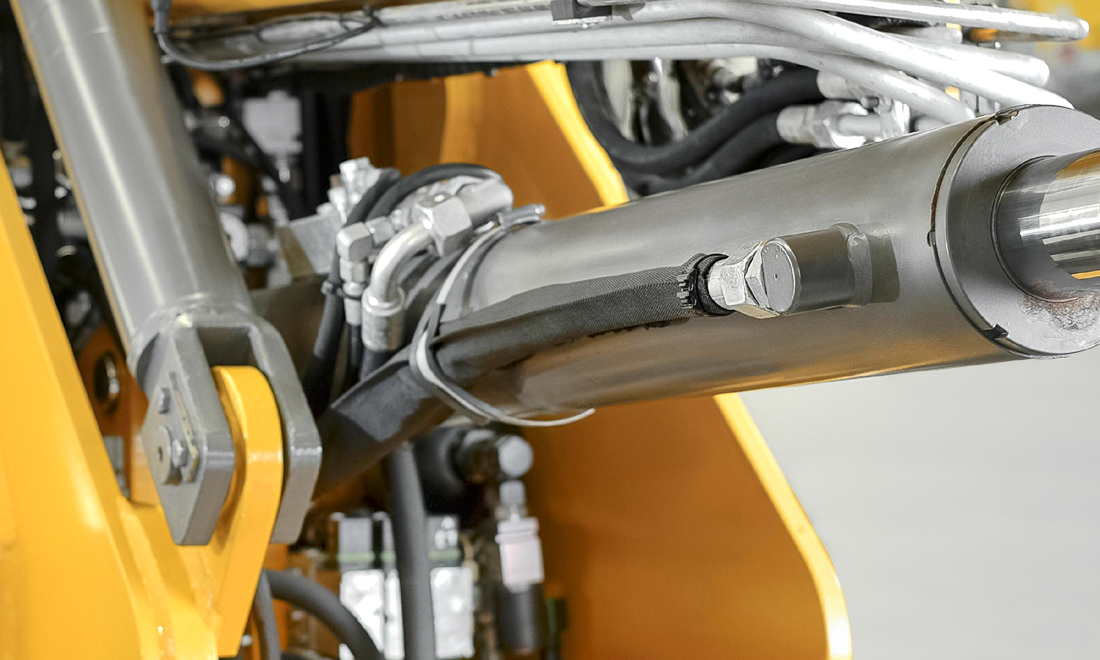 Applied tightly with cable ties, the flexible sleeving absorbs and dissipates the force of a sudden burst and will also deflect pinhole leaks. These produce pressurised jets of oil that will penetrate the skin of anyone unlucky enough to be in the way. This injection of mineral oil can cause serious tissue damage and blood poisoning.
Cost benefits far outweigh additional expenses
Industrial workplace regulations stipulate that employees must be educated about personal health and safety and be equipped with eye, head and toe protection to wear where required.
Although not mandatory, adding protective sleeving to hydraulic hoses as a preventative measure that reduce the risk to life and limb from hose bursts is a sound investment. The cost per meter of protective burst sleeving is comparable with a pair of good safety boots, for example.
Should a burst occur – even without any personal injuries and related-costs for medical insurance and loss of manpower – protective sleeving helps contain damage and consequently the costs of the clean-up and downtime. By containing the broad dispersion of flammable oil, the fire prevention and quality assurance benefits for site operators should not be forgotten.
Furthermore, burst protection sleeving that meets the standards of Earth Moving Machinery (ISO 3457) and Mechanical Vibration and Shock (DIN EN 1299) also reduces the effects of abrasion and heat on hydraulic hoses and makes a positive contribution to maintenance and replacement costs.
The low price for extra safety and quality assurance is worth paying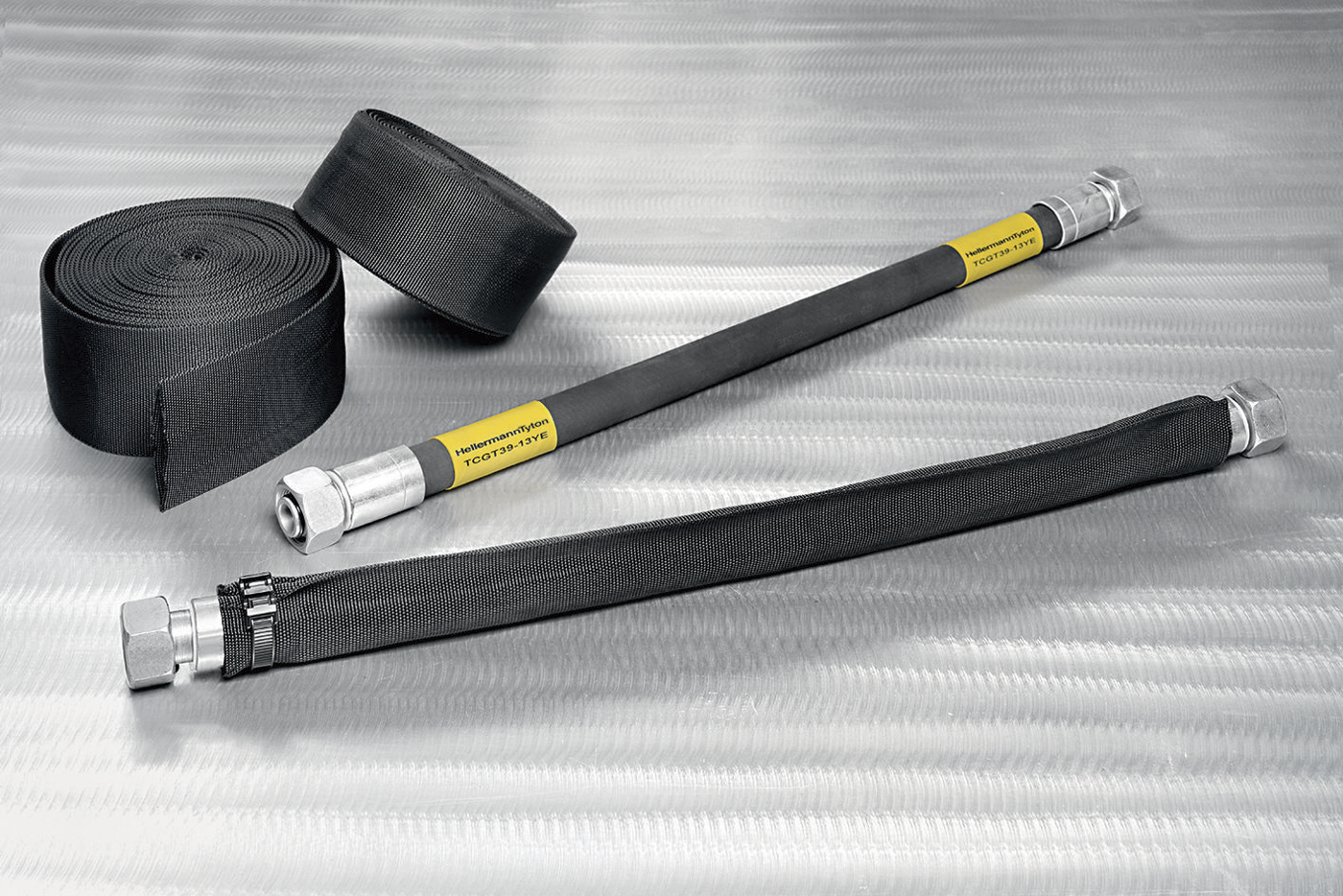 Heavy duty equipment manufacturers are increasingly making their customers aware of the additional safety and quality assurance benefits provided by additional protective sleeving, such as the Helagaine HEGWS Burst Protection Sleeving from HellermannTyton.
A useful addition for securing the hose is the use of the Robusto outside serrated ties. These ties are made from polyamide 11 and are highly resistant to the kinds of chemicals prevalent in hydraulic systems.
Given the devastating consequences that can result from a line bursting, the Helagaine HEGWS Burst Protection sleeving for hydraulic lines is a small but extremely worthwhile investment in quality, efficiency and worker safety.
– – – – – – – – – – – – – – – – – – – – – – – – – – – – – – – – – – – – – – – – – – – – – – – – – – –
What experience do you have with burst hydraulic lines? Do you already use burst protection sleeves in your applications? Feel free to write your thoughts or suggestions in the comments.
#1058